Galeria del Barrio
Hope Community Inc. is proud to present its latest arts and culture initiative – East Harlem's very own dedicated art gallery, Galeria del Barrio "Galeria". Located on East 104th Street next door to the iconic Spirit of East Harlem Mural, Galeria occupies a newly renovated storefront space. Galeria provides exhibition space to local artist and art organizations in exchange for their curation and programming skills. Galeria aims to create opportunity for local and emerging artists, and to establish a cultural destination in El Barrio that bolsters neighborhood tourism, the visibility of local cultural institutions and public art works, and the economic sustability of local small businesses.
Galeria began in November, 2017 as a "storefront artist residency" space. The first artist in residence was renowned local artist Manny Vega. During his three-month residency, Mr. Vega offered workshops in mosaic-making, which were enjoyed by East Harlem residents of ages and skill levels. Mr. Vega activated the space with an atmosphere of creativity, community and learning.
In March 2018, Galeria underwent major renovations, led by local space designer and civic leader Joanna Delson. The space was radically transformed into a beautiful gallery space. The new Galeria launched on April 20, 2018 with the opening of it first exhibition, Sonata Oscura by Ms. Esperanza Cortes, presented in partnership with Hi-Arts. Shortly after accepting residency at Galeria, Ms. Cortes was awarded the John Simon Guggenheim Foundation Fellowship.
For further information, please contact us by email at dmoreland@hopeci.org.
Location: 162 East 104th Street NY, NY 10029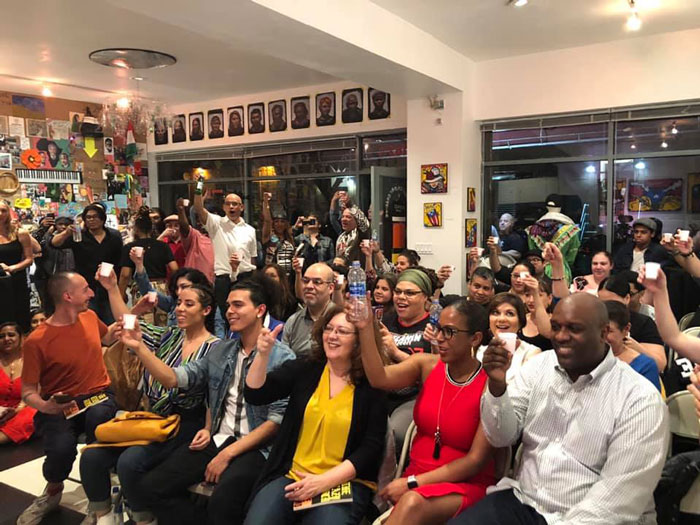 Past Events at Galeria del Barrio