Locations of our Murals & Mosaics
Hope Community has long been a supporter of the arts in East Harlem and has worked tirelessly to build a sense of community among local residents by producing annual festivals, poetry readings and arts programming at Galeria Del Barrio.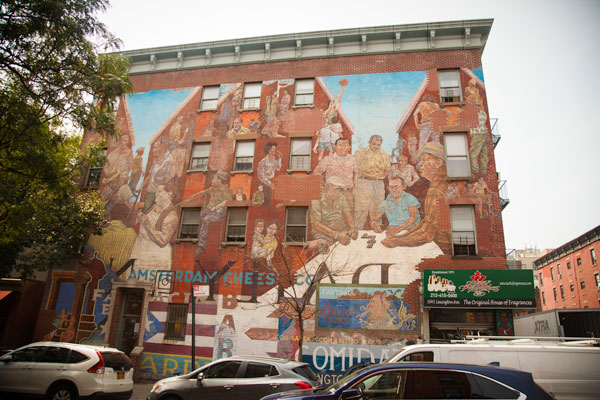 Julia de Burgos Mosaic
In the Fall 2006, Hope Community unveiled "Remembering Julia," a large public mosaic of the renowned Puerto Rican poet Julia de Burgos.  Created by local artist Manny Vega, the mural compliments the successful efforts of Elected Officials and El Museo del Barrio to rename the East 106th Street, Julia de Burgos Boulevard.
Listen to the Julia de Burgos Mural podcast by Melissa Mark Viverito
Location: East 106th Street between Lexington & 3rd Avenue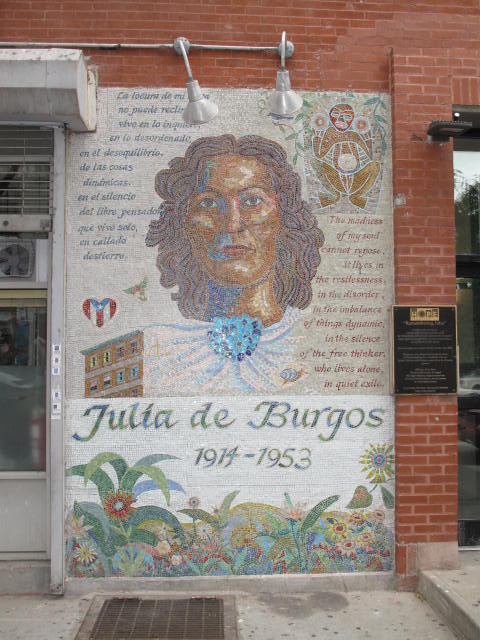 Groundswell Mural
In 2006, Hope Community partnered with Groundswell Community Mural Project to provide an opportunity for local youth to create artistic expression in their community.  The project resulted in a stunning mural located on Lexington Avenue between 123rd and 124th Streets.  Entitled "Deja Vu:  Which Path Will You Choose?," the mural depicts the day-to-day conflicts that young men confront and encourages local youth to make wise choices grounding themselves in family, religion, education, and their cultural heritage.  The mural is located in a small community garden which was replanted and refurbished by volunteers.
Hope Community partnered with several arts-related organizations to implement summer youth employment programs with a creative twist. Over two-dozen local youth were involved in separate employment programs run by Groundswell Community Mural Project and Creative Arts Workshop for Kids.
Working under the tutelage of lead artists Eduardo Rabel and Alex Pimienta, one group of teens completed Groundswell's collaborative teaching program which included the design and creation of a mural alongside a building adjacent to Hope's Lexington Avenue community garden, located between 123rd and 124th Street.
The idea for the Groundswell "Making His-Story" mural came about through several public forums during which the youth interviewed local residents and discussed different ideas for the project.
Hope senior staff joined artist Rabel and local youth and neighbors last summer for a priming "paint party" for the "Making His-Story" youth mural. The mural painting then continued throughout July. Afterward, volunteers from Washington Mutual Bank joined the youth in cleaning, seeding, and planting other areas of the vest-pocket park.
The Lexington Avenue mural was unveiled on November 4th, 2006, during a small ceremony held in the community garden.
Location: Lexington Avenue between 123rd and 124th Street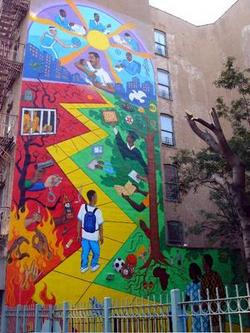 Seed of Growth
Seed of Growth is an outdoor fountain sculpture designed by Lina Puerta in the Modesto Flores Garden on Lexington Avenue near 104th street. The public art project was inspired by the strength and diversity of women in the East Harlem community. The recently-completed concrete and mosaic sculpture will also function as a working water fountain, continually feeding the small stream in the middle of Hope's Modesto Flores Community Garden.
Location: Lexington Avenue between 104th Street & 105th Street